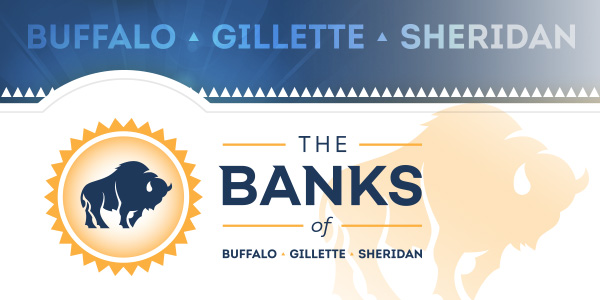 In light of recent news regarding the FDIC closures of banks located in San Francisco and New York, Buffalo Federal Bank would like to remind you that Wyoming Community Banks are always in the best position to support local consumers and small businesses:
As a Wyoming State Chartered Community Bank, Buffalo Federal Bank is well-capitalized and well-positioned to continue to serve our customers. We were chartered in 1936 and are dedicated to serving our communities for generations to come.
We take pride in our local decision making and personal involvement in our communities with the vision to be the premier community bank serving the needs of individuals, families, and businesses throughout North-Central Wyoming.
In the 88-year history of the FDIC, no one has ever lost a penny of an insured FDIC deposit.
If you have questions about coverage or would like to learn more about FDIC insurance, please visit the FDIC website or contact your local Buffalo Federal Bank location in Buffalo, Gillette or Sheridan. We stand ready to assist our customers with any questions or concerns.
We are The Banks — Wyoming Local & Always Here for You
The Banks of Buffalo, Gillette, and Sheridan were established in Buffalo, Wyoming, in 1936. We have a long, shared experience with the customers we serve that can't be matched by a national bank. Wyoming is our home, too. We live here and work here, just like you, and we want to do everything we can to help our neighbors, local businesses and communities succeed.
This past year, many of us faced new financial challenges. The Banks are proud that we were here to help our customers through these tough times. From helping customers needing to defer loan payments, to offering Home$tart Grants to first-time homebuyers, to providing PPP loans to our local businesses, we feel honored to be in the position to help our friends and neighbors navigate their financial challenges and also take advantage of programs and low rates that provide opportunities for financial growth.
Because The Banks are local, we are able to quickly respond and help those we serve. Decisions are made right here, and our lenders are ready to help. Our customers can bank using our convenient drive-thru facilities and also access our 24/7 online and mobile banking to take care of their banking quickly, easily, and safely, wherever they are. And, while our lobbies are currently available by appointment only in accordance with local health and safety guidelines, our staff is here for you for any needed in-person services.
We are here for our customers and our communities during the good times and the bad times. Whether you are looking to build on your success or need help getting on your feet, we are working to make your banking experience a little easier. We're committed to providing outstanding service. We know that all the little ways we help our customers make their banking simpler and safer go a long way by making life in general just a little bit better, too.
By taking the time to get to know our customers and the communities we serve, we can deliver the right products and services to meet their unique needs — whether that's opening their first checking account, buying their first home, or growing their business. And, because we are local, we know the needs of our community and can develop products and services that specifically address those needs. We make sure that the local money we are trusted with is invested back into the local economy.
We are here to make a difference in our community because we care about the things you care about. We volunteer for the same organizations, cheer for the same local teams, and support the same local shops and restaurants. Through these shared experiences, we have the local knowledge and commitment needed to see the bigger picture and help our friends and neighbors succeed.
In the tough times, we realize how lucky we are to live here. We are Wyoming strong. Together, we will keep adapting, keep facing the challenges and opportunities that come our way, and keep working for each other's success. Whatever it takes to keep driving forward, The Banks will be by your side. We hope you'll give us the chance to show you how local can work for you!