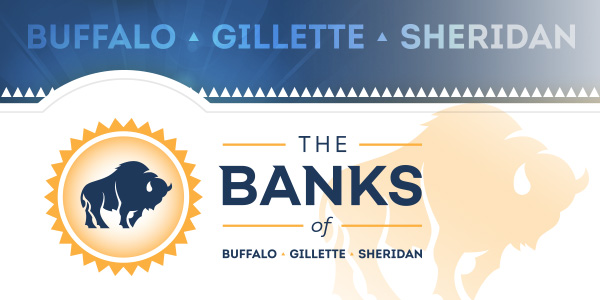 Business Banking
It's all about you...you know that sometimes being in business for yourself requires expert help. There are specialists available to help you with your commercial, agricultural and real estate investments. Remember there's more to investing in your future than just money - business plans, projected earnings, cash flow and debt service. No matter how big or small your business is, it depends on a sound financial institution. The Banks of Buffalo, Sheridan and Gillette have the experts to help your business succeed. Our commercial and agricultural lenders Rich Griffith and Wes Haskins in Buffalo, Darold Destefano and Donna Richards in Sheridan, and Linda Parker in Gillette are ready to help you with all your business and commercial loan needs. We offer full service banking right in your neighborhood because "It Is All About You!"
Term Loans - Business Loans to Plan Your Future, Today
Growing your business takes careful planning - especially when it comes to finding the financing for new or existing projects. A term loan is one way to obtain the funds you need. Whether you're building a new location, refinancing the one you're currently in, or simply looking for additional working capital, we can help.
Term loans can be used for:
Expanding a business through construction, real estate, machinery, equipment or vehicles
Acquiring an existing business
Consolidating debt or restructuring existing debts
We have the expertise and experience to help you sort through the loan options that fit your circumstances
Equipment Financing & Working Capital Loans
We can help you improve the efficiency of your business with a variety of financing options for both new and used equipment. If planning to expand your operation or just replacing existing equipment, we can fill those needs. We will work with you to match your financing needs with your current business strategy.
Fully amortized over a period of 3-7 years (depending on equipment type)
No prepayment penalty
Contact one of our branches toda for more information
Commercial Real Estate Lending
Our lenders work with individual business owners, investors and developers to finance projects ranging from large multi-tenant commercial buildings to smaller investment projects. We are a community lender that provide's reliable and experienced financing for your commercial real estate needs. We also offer flexible financing structures for acquisition, refinance, renovation, construction and development.
Just a few areas in which we can offer financial solutions include:
Multi-family units
Multi-tenant office
Office/Warehouse
Retail centers
Self-storage units
Industrial buildings
Nursing/Assisted care facilities
Contact us for additional property types
SBA Lending
We are an active SBA lender. We provide a fast turnaround on your SBA loan requests. Loans are available for a variety of purposes. Included are commercial real estate, equipment financing, leasehold improvements, working capital and acquisition of a new business.
Construction Financing
Our lenders work with individuals, builders and developers to finance your construction project. We offer loans for pre-sold units and spec units; land acquisition and development; land-only; or land-construction combination loans.
Our construction financing programs feature:
Fixed and variable rate products
Interest-only payments with prime-based interest rates
Local loan administration
Get started today!
In Buffalo, call: 1-307-684-5591 or contact us
Rich Griffith, direct line 1-307-684-7664
In Sheridan, call: 1-307-673-8100 or contact us
Darold Destefano
In Gillette, call: 1-307-685-2702 or contact us
Josh Richardson
Kaycee Smith
In Evanston, call: 1-307-789-3700 or contact us
Gary Larsen
Banking fair and honest - The Wyoming Way
This application has fillable form fields for your convenience. Once you've downloaded the application, you have the option to fill out on screen. Once complete, please print the form and submit to your local branch lender. We look forward to assisting you!
Download our printable Commercial Loan Application
Download Our Individual Financial Statement