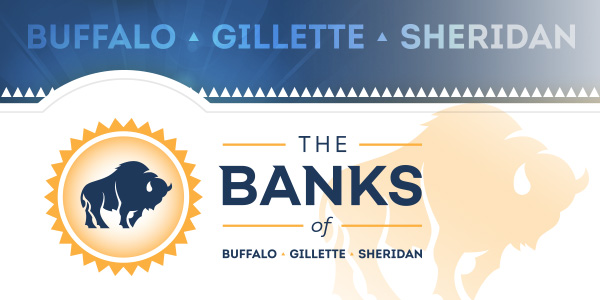 In light of recent news regarding the FDIC closures of banks located in San Francisco and New York, Buffalo Federal Bank would like to remind you that Wyoming Community Banks are always in the best position to support local consumers and small businesses:
As a Wyoming State Chartered Community Bank, Buffalo Federal Bank is well-capitalized and well-positioned to continue to serve our customers. We were chartered in 1936 and are dedicated to serving our communities for generations to come.
We take pride in our local decision making and personal involvement in our communities with the vision to be the premier community bank serving the needs of individuals, families, and businesses throughout North-Central Wyoming.
In the 88-year history of the FDIC, no one has ever lost a penny of an insured FDIC deposit.
If you have questions about coverage or would like to learn more about FDIC insurance, please visit the FDIC website or contact your local Buffalo Federal Bank location in Buffalo, Gillette or Sheridan. We stand ready to assist our customers with any questions or concerns.
Let's Review for National Cybersecurity Awareness Month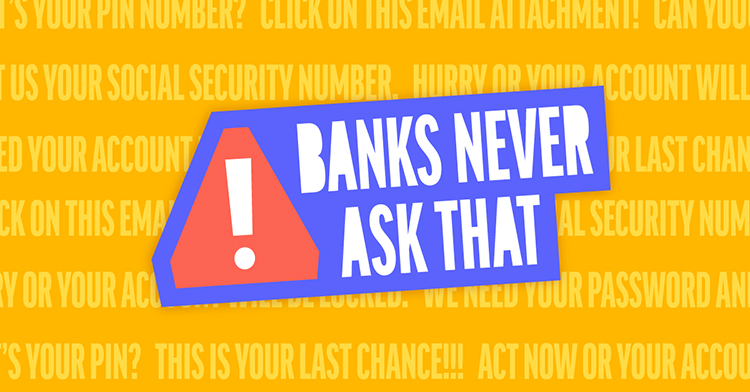 October is here, and so is National Cybersecurity Awareness Month. That means, there is no better time to review the warning signs of fraudulent emails, texts, and calls. You may be thinking, I am basically a pro at spotting scammers. It is always so obvious. While some messages clearly appear fake, others seem legitimate and may have you questioning if it's real or not. In 2021, scammers are calling from local area codes and sending emails that look a little too realistic. Being able to recognize and avoid suspicious activity is critical in preventing your financial information or identity from being compromised.
GET FAMILIAR WITH THE SIGNS
It is important to be able to recognize red flags that will alert you that a message is a scam. Here are some common red flags to look out for:
If the messenger/caller is asking for your…

Account number
Social Security Number
Pin number
Birthday
Address
Username or password
Answer to a security question

Urging you to fill out a form
Incorrect grammar or misspelling words
The Scare Tactic is a popular, and effective, phishing strategy. Fearful messages catch you off guard and compel you to make an immediate decision. Scammers rely on this reaction to get information out of you. If a caller warns that something bad will happen if you don't take immediate action or pressures you to provide information right away, it is a scam. Hang up and call the bank number on the back of your card.
Don't Click on Links or Download Attachments. When opening unsolicited emails or texts, always be cautious of links or attachments. Do not click any links or download any attachments if you have any suspicion that the message is a scam attempt. Links can direct you to fraudulent websites and downloads can contain malware such as viruses. Also, never respond to the message, and ignore any requests from the sender. Fortunately, in most cases, it is perfectly safe to open an email or text, just make sure you don't download any attachment or click any link.
In all scam cases, it is a good idea to report and/or block the sender. For more information on reporting fraud or identity theft, click here.
WHAT WE NEVER ASK
Whether a scam is painfully obvious or seems believable, there is a simple way to decipher its credibility. When in doubt, remember "Banks Never Ask That."
Get an unprompted phone call asking you to verify your pin? Banks never ask that.
Sent an email asking you to click a questionable link or download an attachment? Banks never ask that.
Receive an urgent text asking to provide your banking password? Banks never ask that.
If you want to test how good you are at spotting scams, take this quiz.
Remember, if you didn't initiate the conversation, chances are the call or message is illegitimate. The only time you should verify confidential information is if YOU called your bank at a trusted number. If you are unsure if a message/call you received is from us, or you fall victim to an online scam, give us a call at your local Buffalo Federal Branch; we're always here to help. The Bank of Buffalo, Gillette and Sheridan cares about protecting your personal information and will do everything we can to provide reliable service to our local communities.